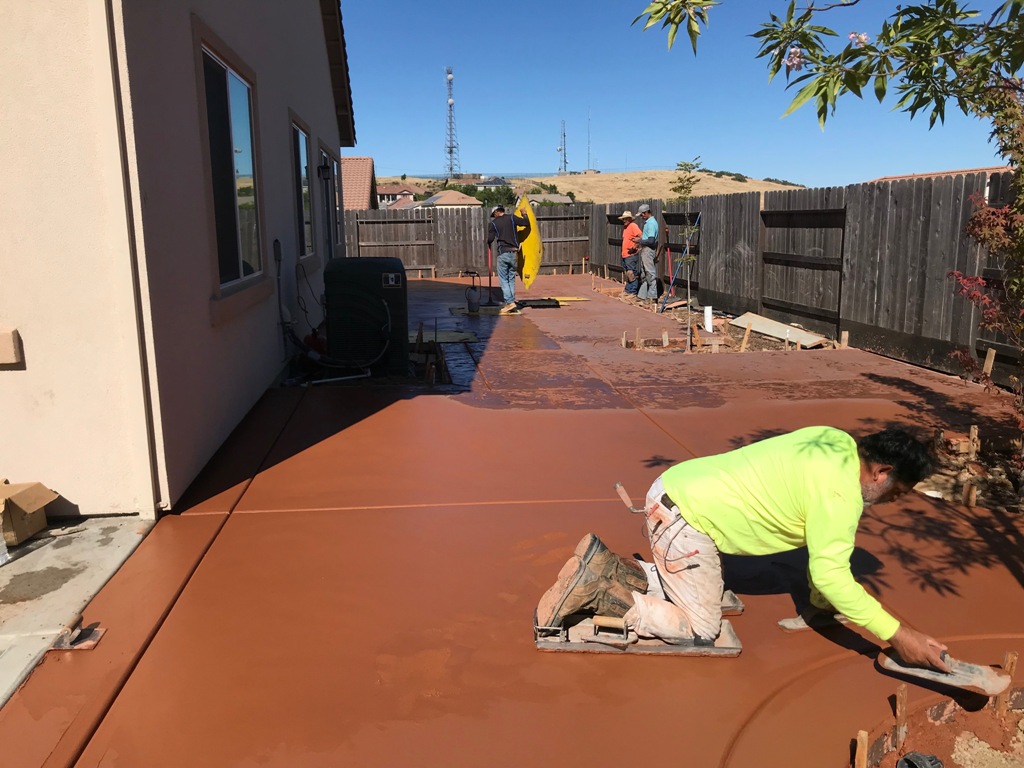 Stained concrete is a coloring process that involves a chemical reaction of some predetermined chemicals mixed with water, acid, and salts to the concrete. Colors obtained by this chemical reaction have more life than other painting and coating agents. This is because the colors are formed by a chemical reaction when the solution penetrates into the pores of the concrete, making it colorful from inside.
About San Clemente Concrete
Stained concrete is the latest trend—the reason, not only being its luxurious looks, but also its durability that is unmatched. And most importantly, it falls cheap in your pocket too.
So, if you are looking for the top stained concrete contractor with all the needed expertise, call San Clemente Concrete Pros at (949) 541-2077 and just relax!
With years of experience behind, we assure you the best of results and get a free quote.
Benefits of Stained Concrete
Relying on San Clemente Concrete Pros for stained concrete is sure to surpass your expectations. Apart from getting rid of common problems like chipping, fading, and peeling off, we assure that it will be helpful for those who are allergic to other forms of paints. Other benefits include:
It is economic
It is durable
No or very low maintenance cost
Looks very stylish, versatile and elegant
Various color options available
Suitable for both interiors and exteriors
One of the best available alternatives
Staining Concrete: How It Is Done
Before starting work full-scale, it is always better to test the staining process on a small part first. This will not only help in determining many things but also will help in deciding about the color shade, whether the concrete is dry enough or not, which is more suitable, acid-based or water-based, etc.
Following are the Steps Involved in Staining Concrete
Ascertaining the Customer Needs
It is always very essential to know what your customer is exactly expecting from you. You need to choose from the two available options, i.e. water-based or acid-based. Acid-based staining is a lot more durable than a water-based one. Both have their respective advantages and disadvantages. Once the needs are thoroughly understood, the team prepares a plan to achieve the predetermined results.
Preparing the Surface
Cleaning the surface with pressurized water and letting it dry for one day at least is always recommended. Cracks and other minor repairs if needed should be undertaken during this period. When dry, scrub the uneven places, and you are ready to apply the stain.
Application
Depending upon the area, the stain is applied to the concrete surface using an airbrush, roller brush, or small painting brush. Proper, smooth and even application of stain is ensured to attain better results.
Finally, using a separate sprayer, excessive residue if any is removed using a water solution mixed with vinegar or baking soda. Once the surface is dry, it is ascertained whether the surface needs another coat or a single coat will do. Once you are satisfied, concrete sealing is done with an appropriate concrete sealer. A good concrete sealer protects the stained concrete from external dust and keeps the surface glossy for a longer period.
So, now that you have a fair idea of what stained concrete is all about, and how an expert stained concrete service provider can help you, call San Clemente Concrete Pros at (949) 541-2077 today and let us help you in making your colorful dreams come true.