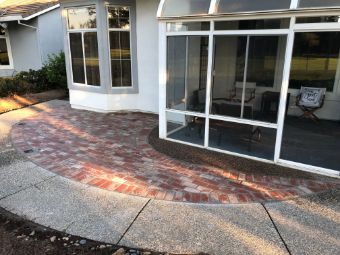 We, at San Clemente Concrete Pros, the pioneers in the bricklaying industry, are always ready to lend our expertise as far as your bricklaying requirements are concerned. We make use of the most innovative technologies available in the field of construction, and our experts always make sure that you receive nothing but the best. 
We are known to use only top quality materials and also often devise inventive methods to tackle various challenges within the project. Our San Clemente bricklaying professionals are bound to complete the project within the deadline and without compromising on the quality.
In order to know more about our top quality services and how we can make your project a success, call us on  (949) 541-2077 for free estimates today!      
Bricklayers – What Do They Do?
As the name suggests, a bricklayer is a skilled professional who builds various structures by laying bricks, stones, concrete blocks, and other mortar materials. But that is not all, and bricklayers do a lot more than just laying bricks! Below mentioned are some of the duties performed by expert bricklayers, apart from lining up the bricks.
Reading the project plan and understanding its requirements to the core.

Identifying the right and high-quality damp-resistant materials to seal the foundations

Forming mortar layers on which the bricks are laid in various designs and shapes

Sealing the gaps between the bricks with mortar 

Repairing damaged bricks, cement slabs, concrete blocks, and associated structures

Using the latest brick-cutting machinery

Erecting and dismantling temporary structures, etc
San Clemente Concrete Pros Bricklaying Services
San Clemente Concrete Pros offers a wide range of bricklaying services for commercial and residential properties. With decades of experience to look into, our expert staff are not only quick in understanding your requirements but are also capable of suggesting you with alternate methods to bring down the project's cost. The following are some of the expert services we provide in San Clemente.
Firepit construction (both indoor and outdoor)

Kitchen construction and renovation

Designing and building dining area structures  

Driveways

Brick walls and mailboxes

Columns and foundation blocks

Staircases and stoops

Tuckpointing services for masonry chimneys, brick walls, etc.
Why Use San Clemente Concrete Pros Services?
Bricklaying requires keen observation and eye for detail as far as reading the plans and understanding the designs of the structures are concerned. This is where professionalism, coupled with precision, is required, and we at San Clemente Pros are renowned for providing the same. 
We abide by our promises and are always committed to follow the high standards we have set for ourselves. We deliver what is expected of us on time, every time. We have stringent rules in place and strictly adhere to the local laws and recommendations to make sure that the project runs smoothly and without any hindrances or interventions from local authorities.
Dial us at  (949) 541-2077, fill in the simple form below, arrange for estimation with one of our bricklaying experts.