San Clemente Decorative Concrete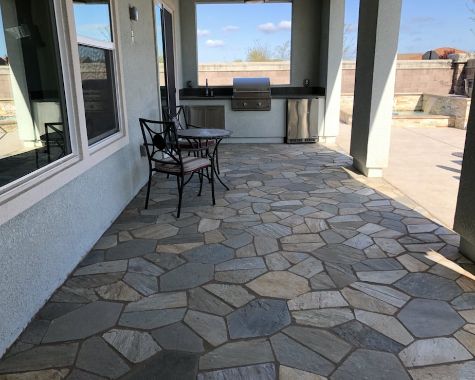 Concrete nowadays is being used in many ways. Traditionally they were used in a practical way. They were merely a part of your floor, wall, and walkways. However, they are fast becoming a means for decorating your house, giving it an aesthetic and cosmetic touch.
If you, too, are looking for that Midas touch, give us a call at 949-541-2077.
Contact us now and have a free estimate.
We at San Clemente Concrete Pros will help you realize your dreams in the most economical way possible.
What is Decorative Concrete?
Decorative concrete is a process of transforming ordinary concrete into decorative concrete. This is done by combining a variety of materials and various methods, which are applied while pouring the concrete or after it is fully cured. Some of the materials used include acid stains, stamped concrete, and other dyes.
Types of Decorative Concrete
Concrete is one of the most important building materials. However, it was never considered to be a beautification tool until recent years. Now it is being used as a decorative material too. Following are some of the most popular types of decorative concrete in use and remember, we specialize in making each of them:
Concrete dyes
Honed aggregate concrete
Adding knockdowns
Overlaid polymer cement
Engraved concrete
Painted and stained concrete
Towelled and engraved concrete
Each of the above types gives a different finish. We will show you the ready samples so you can envision: how they can complement your home and then choose accordingly. We can also help you in the selection process by advising you on the best suitable decorative concrete for your home and within your budget.
Steps Involved in Pouring A Decorative Concrete
Identifying the place where the concreting has to be done is to be assessed first. Our expert team visits the site and takes the measurements. They will suggest the most feasible form of decorative concrete accordingly.
Customer Requirements
Customers' requirements are of prime importance. Please let us know your exact needs so that we may come up with all the options for you. Be assured that whatever your requirements are, we will take care of the most efficiently and economically possible.
Work Schedule
Scheduling of work is done very carefully so that no other part is bothered or damaged. Concrete can get damaged before or after the pouring process. We always recommend starting work on Fridays and letting the poured decorative concrete settle and dry through the weekend. This will also make the concrete hard.
Application and Drying
Once the decorative concreting is applied, it needs proper care until it becomes fully dry and hard. Proper curing, cleaning of the site, etc., are common measures that should follow to ensure its durability. Don't forget to keep away plumbers, carpenters, and other tradespersons if they are also working on the site simultaneously.
Hire San Clemente Concrete Pros
Now that you have a fair idea of what San Clemente decorative concrete is and how you can use it to beautify your home, chalk out a plan, colors, type, and the design you want your home to have.
Once you are ready with all your requirements, give us a call at 949-541-2077 and, we at San Clemente Concrete Pros will make sure that each of your expectations is met with precision.
Contact us now for a free quote.